Family Chiropractic in Waterloo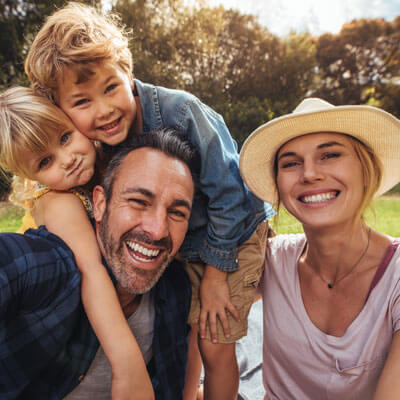 At Martin Chiropractic Clinic our primary mission is to help families experience better health, naturally, through safe and effective chiropractic care. We love seeing multiple generations of families from newborns and infants to their great-grandparents in their 80s or 90s. Every age and stage can reap the rewards of chiropractic care; these include an enhanced immune system, better function and improved sleep. Best of all, chiropractic doesn't involve drugs or surgery.
Benefits for Baby and More
Chiropractic is a time-tested form of natural health care that can help babies and children flourish. Here are some ways that chiropractic helps these young patients:
Babies
Even if no interventions are used during your baby's birth, the birth process can still be traumatic. For this reason, we recommend that babies have their spines checked as soon as possible after birth. If treatment is required, only a light correction "adjustment" is used, about the same pressure applied to determine the ripeness of a tomato.
Chiropractic also can help with these other issues that sometimes affect babies:
Acid reflux
Asymmetrical neck movement (torticollis)
Colic
Ear infections
Latching issues
Recurrent upper respiratory infections
Children
Kids of all ages can enjoy better health when they have a properly functioning nervous system. Through gentle chiropractic adjustments, we can remove any interference in the nervous system, allowing kids to feel better and perform at their peak, both academically and athletically. Chiropractic also can improve the immune system so children can better fight off cold and the flu viruses and miss fewer school days.
If you'd like to discover how chiropractic can benefit you and every member of your family, we invite you to book an appointment today with Dr. Martin!
CONTACT US »

Family Chiropractor Waterloo, Kitchener ON | (519) 886-2570